3D Butterfly Sticker Decals | Artificial Butterflies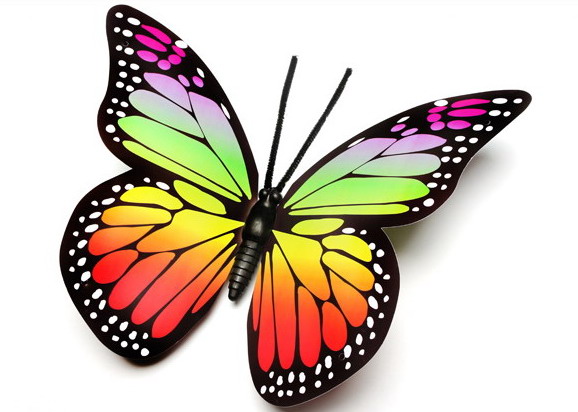 3D Butterfly Stickers

Artificial 3D butterfly wall stickers are made of high-quality environmentally friendly PVC material, creating copies of real butterflies. Each of them has same pattern on both sides. We've been specializing in and manufacturing artificial butterflies and luminous butterflies in simulated figures for years which are perfect for multiple uses: decoration, watching, landscaping. They are also terrific creative cute gifts, promotional items and freebies in various occasions and events: teaching, educational toys, enriching the knowledge out of class. All the photos as shows are for real shooting. There are various styles in different structures for different decorative ways. Magnetic style is for decorating fridge and any other ironware. Clipping style can be for the things like curtain etc. Small butterflies can be stuck to kids clothes with safety pin etc. You can contact us to source out more options for custom projects. There's also a kind of fluorescence wall sticker which is a great choice. It can hold you infinite fantasies. When you close the light in the room, the decal would reflect silver light, just like the world of a fairly tale which takes you back to your childhood and have a sound sleep.

Manufacturing Material

The quality of wall stickers depends on wall sticker material which is usually PVC. Selecting wall sticker PVC, you should pay attention whether or not it is firstly environmental friendly, secondly color and luster, thirdly price. You can identify the quality of PVC by the ways as follows:

1. Enough thickness and good texture. The bottom paper (the layer of paper under PVC which is supposed to be tossed away when in use) should also be thick enough with delicate surface.

2. Deep colors, including those light colors. It means it doesn't reflect the actual color of wall. If the wall color of your home is yellow, if you stick inferior cyan decals on the wall, then it finally shows claret, not the cyan you would like. That's the consequence of using low-quality PVC.

3. The quality of pectin. You can't feel this in short time. It takes time. Disqualified PVC wall stickers have various problems such as damaging wall, having bubbles etc.

4. Smell. High-quality PVC has a weak smell. Even large-area of PVC doesn't have a clear plastic taste. This is also what all of us are concerned about the most. PVC itself is a kind of plastic similar to wall paint. It would better be environmentally friendly, isn't?

5. Plasticity. All PVC material can meet the demand on this point as wall stickers. But it had better be the material in high-quality. After all, this is the decoration for wall. Those wall decals made of qualified PVC look better-looking and have better texture while the inferior material usually has deckle edges. As for the using duration, usually it can last 3 years without any change generally, ideally 4-5 years
Artificial Butterflies for Multiple Uses

Decorative Accessories – An amazing decoration for various events, occasions and different objects: living rooms, kids' rooms, parties, weddings, stores, booths, gardening, or fridges, curtains, TV backgrounds, hair, windows, photographic props etc which usually can creative or foster a gorgeous or romantic atmosphere, take people all the way back to fairy tales.

.

Business Gifts – Terrific for customers, visitors, friends to show affection in various business events: conferences, holidays, celebrations, anniversaries etc.

Promotional Gifts – Perfect for next promotion to show the individuality of your business, getting your point across.
Different Structure Options

Magnet Style: There is a piece of magnet at the belly of butterfly which can attach at any ironware (fridges, iron shelves, iron window…). It can also decorate any magnetic objects.

Clipping Style: It can be used anything which can be fastened by clipping. The most noteworthy to speak of is for hair decoration when take photos (as the photographical prop of wedding artistry) or for other uses.

Safety Pin: It is located in abdomen. Safety-pin butterflies can be fastened to decorate window or door curtains, mosquito nets, gauze curtains, clothes etc.

Inserted Pole: It's a great ornament for gardening decoration or flower arrangements.

Magnet + sponge tape: It can be stuck to glass, door, and wall for decoration.

You can also contact us if you would expect to source the new ways for decoration.
Applicable & Non-applicable Occasions

The 3d artificial simulation butterflies or butterfly wall decals apply to smooth surfaces in various different materials: flower arrangement, mirror, tile, woodiness, glass, metal, plastic, wallpaper, fridge etc. So, they are not right for the uneven ones: lime-falling wall, cratered wall etc. Applicable Occasions: Integrated cupboards, furniture exhibition halls, home decoration displays, shipping mall décor, advertising promotions, teaching tools, game props, still lives, childhood initiation educations etc.
Payment Method&Contact Info.

For the products in our collection, you could directly buy them from our website. The default payment method is "Payapl Express Checkout".

Alternatively you also can process the payment via bank transfer, but you have to provide the sales invoice, full-paid taxes for us to collect it on our end due to the recent exchange control.

If you have any special requests for custom paper clips or anything in doubt, please contact us for details. we'll look forward to a further negotiation.

Thank you!

Contact: Jack

E-mail: inquiry@mellowerfashion.com

Tel:86-575-83353700;86-15267511098
Jack Chow
Some important guy